Spring is a time of renewal, growth, and fresh starts, which is why it is a perfect time to give your home a deep cleaning. There is something to be said about heading into the warm weather and long summer nights with a beautiful, sparkling clean home.
If you're a homesteader like me, you might feel especially determined to deep clean your house before the summer because you know you won't have time once garden season starts up.
Either way, it can be really daunting to think about deep cleaning your entire house, but don't worry. It doesn't have to be overwhelming! It is all in the preparation and the method and breaking everything down into smaller, more manageable tasks.
In this article, I'll go over the right way to get started with deep cleaning your whole home, and I'll give you some great tips on how to stay organized and keep yourself on the right track.
I've also created a FREE printable deep cleaning checklist pack for the whole home – each room is its own page, so you can pick and choose which ones you need, and there is plenty of room for you to personalize it and add in your own tasks!
Tips for Spring Cleaning Your House
Before you begin deep cleaning your house, it's important to prepare and get organized. This will set you up for success right from the start. Here are some tips to help you stay organized when deep cleaning your house:
Declutter First
Start by putting everything back in its place and removing unnecessary items from each room. This will not only make it easier to clean, but it will also make your space feel more organized and spacious from the start. Also, a clear area helps to clear the mind and help you prepare for your deep cleaning session. I find that when my house is cluttered, my mind is also cluttered and I can't seem to focus. It makes a huge difference to my motivation when I am working with a tidy space from the start.
Gather Supplies
Make sure you have all the necessary cleaning supplies before you start. This might include cleaning solutions, paper towels, cleaning cloths, scrub brushes, buckets, dusters, a mop and bucket, a broom and dustpan, a trash bin close by, and a vacuum cleaner. Kind of a pre-checklist before the main checklist!
Create a Plan
You're in the perfect place for that right now – you've already started creating your plan just by reading this article!
I know that the idea of a whole-home deep clean is daunting and intimidating. If you're like me, you might start off super motivated and feeling like it'll be a piece of cake, but then a distraction comes up, or you get too overwhelmed and shut down. Creating a plan that breaks everything down into smaller, more manageable tasks is key to achieving your deep cleaning goals.
Also, the best way to deep clean your whole house is to start from one end of the house and work your way across to the other. It's very satisfying to totally deep clean a room and move on to the next – seeing your sparkling clean living areas is great motivation to keep on going!
Keep reading for my free printable deep cleaning checklist that lays it all out visually!
Set a Timer
Do you sometimes find yourself thinking, "I would clean my house, but I don't have enough time today and I want to wait until I have the whole day to do it." I know I do! In reality, your brain will probably jump to anything else besides cleaning and you'll never "have time."
Sometimes just setting a timer for 30 minutes or 1 hour and telling yourself that you will make the most of that time is enough to really motivate you to keep going. Giving yourself an out at the end of the timer is kind of along the same lines as physically checking items off a list – you are not only breaking down a large project into smaller tasks based on physical area, but you are also breaking down a large amount of time into smaller periods.
Take Breaks
Just like putting in a day's work at the office, taking breaks is essential to resetting your mind and keeping up your productivity. Don't let yourself burn out! Deep cleaning is a marathon, not a race. You won't get this all done in a day. Make sure you take regular breaks and drink plenty of water. I find that a change of scenery helps so much, even if it's just for a few minutes. Step outside and get some fresh air before coming back and knocking another task off the list.
Put on Some Background Noise
Cleaning is always easier when you have some background entertainment to listen to while you do it. Deep cleaning can get pretty mundane, and just like working out, it's much better when you've got your favorite playlist, podcast or audiobook playing in the background to keep you motivated. You can even learn something while you work via an educational podcast!
Free Printable Deep Cleaning Checklist
This printable pack contains deep cleaning checklists for every room plus lots of extra room for you to customize it to your own needs and add in your own lines.
Here's an example of one of the pages: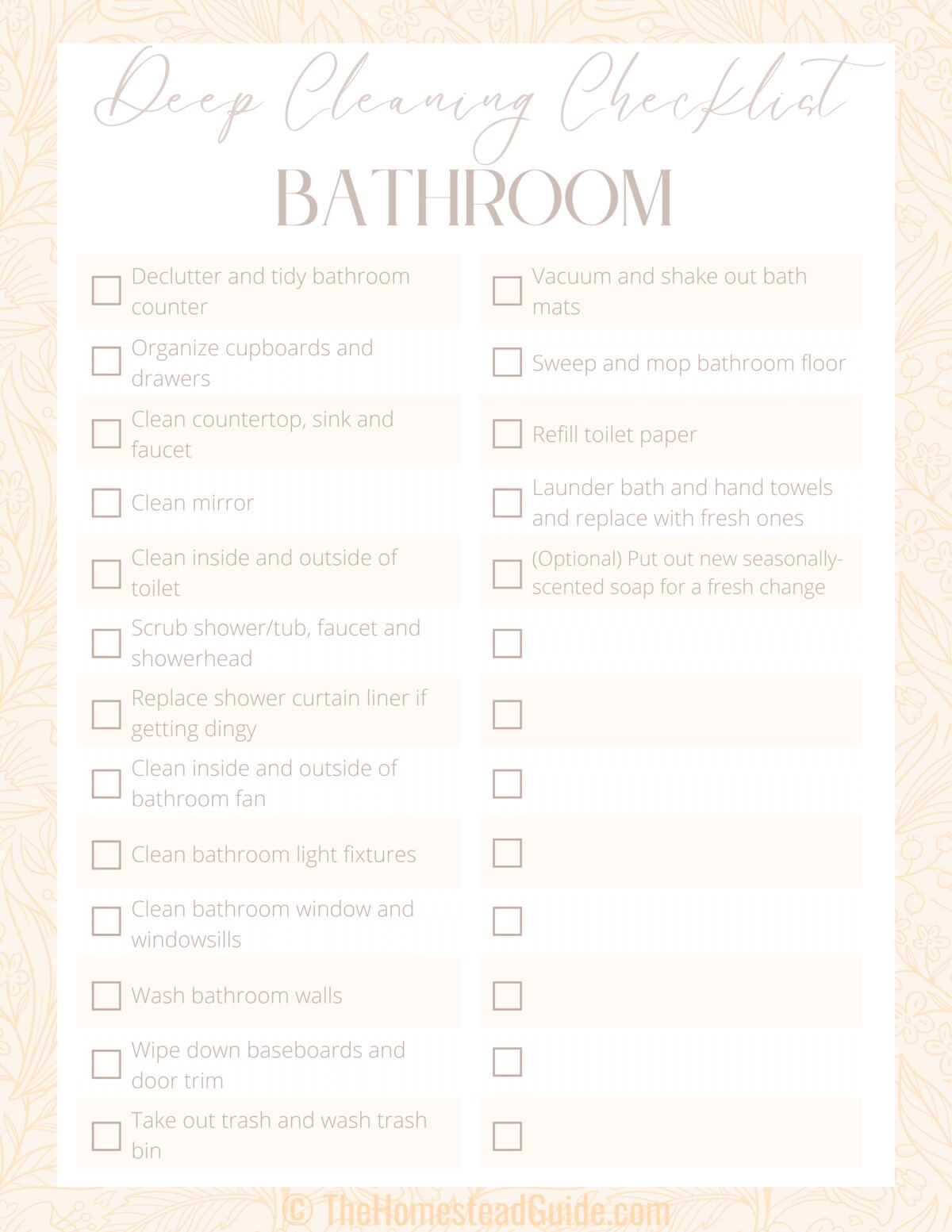 Bedroom
Put away laundry
Organize all dresser drawers for space saving
Organize and purge closet
Put on a fresh set of sheets
Wash duvets and comforters
Wash pillows
Wash bedroom windows and windowsills
Wash bedroom curtains and wipe down blinds
Wipe down surfaces, picture frames, fans, etc.
Clean bedroom light fixtures
Clean ceiling trim
Clean baseboards and door trim
Vacuum/shake out area rugs
Vacuum floor
Sweep and mop floor
Bathroom
Declutter and tidy bathroom counter
Organize cupboards and drawers
Clean countertop, sink and faucet
Clean mirror
Clean inside and outside of toilet
Scrub shower/tub, faucet and showerhead
Replace shower curtain liner if getting dingy
Clean bathroom light fixtures
Clean bathroom window and windowsills
Wash bathroom walls
Wipe down baseboards and door trim
Take out trash and wash trash bin
Vacuum and shake out bath mats
Sweep and mop bathroom floor
Refill toilet paper
Launder bath towels and hand towels and replace with fresh ones
(Optional) Put out new seasonally-scented soap for a fresh change (my favorite part!)
Kitchen
Declutter and tidy kitchen counters
Organize kitchen cabinets and drawers
Wipe down inside and outside of kitchen cabinets
Clean top of stove including under burners
Wipe down top and bottom of range hood; replace filter and lights if needed
Clean inside of oven
Clean behind stove/oven
Clean out toaster, toaster oven, coffee machine and other small countertop appliances
Wipe inside and outside of microwave
Clean out old food from fridge and wipe clean
(Extra) Deep clean all components of water/ ice dispenser in fridge
Clean out old food from freezer and wipe clean
(Extra) Defrost freezer
Clean behind fridge/freezer
Scrub sink and faucet
Clean and disinfect sink screens and drain plugs (especially around rubber seals – I use Q-tips for this)
Wipe down countertops and backsplash
Clean and organize under sink area
Wipe down light fixtures
Wash windows and windowsills
Wash kitchen curtains/blinds
Take out trash and wash all trash bins
Sweep and mop floor; deep clean corner areas and edges by hand
Dining Room
Clean light fixtures
Wipe down surfaces – cabinets, wall decor, side tables, etc.
Wash dining room windows and windowsills
Wipe down dining table
Wash tablecloths, table runners, placemats
Pull apart dining room table if it extends and clean out crumbs inside seams
Vacuum and shake out area rugs
Sweep and mop floors
Living Room
Tidy up bookshelves, coffee table, TV stand, etc.
Dust around TV and TV stand
Wipe down and dust all solid surfaces
Dust picture frames, wall decor, etc.
Wash living room windows and windowsills
Dust off blinds, wash curtains
Dust TV screen and other electronics with dry microfiber cloth
Wipe down remotes and clean between buttons
Vacuum inside and outside of couches and recliners
Wash throw blankets and pillow cases
Vacuum and clean area rugs, carpet
Vacuum underneath couches and other large furniture
Sweep and mop floors
Laundry Room
Organize shelves and cupboards
Clean around and behind washer and dryer
Retrieve fallen clothing and vacuum up dust bunnies
Clean laundry room sink and faucet
Wipe down surfaces and decor
Remove dryer lint trap and clean out
Deep clean dryer vent duct
Office
Tidy up and put away loose paperwork
Organize desk and drawers
Clean light fixtures
Dust all hard surfaces
Dust computer screen with dry microfiber cloth
Organize and clean all bookshelves and cabinets
Wipe down mouse and clean out keyboard
Wash office windows and windowsills
Wipe down blinds
Vacuum and clean rugs and carpets
Sweep and mop floors
Front Entrance/Hallways/Rest of House
Clean all light fixtures and ceiling fans
Clean all windows and windowsills
Wipe down blinds/wash curtains
Wash walls, baseboard and ceiling trim
Clean doors
Replace burned out light bulbs
Test/change batteries in smoke detectors
Test all carbon monoxide detectors
Purge and organize closets
Wash coats, jackets, boots, mitts, etc.
Replace furnace filters
Wash entrance mats
Vacuum, sweep and mop floors
Clean chimney
Have your furnace and AC serviced (annually)
Final Thoughts
You can get this fantastic FREE printable deep cleaning checklist here. Follow along and add in your own tasks to suit your needs!
I hope this whole-home spring cleaning checklist is helpful. After all, it's been proven that the act of checking items off of a to-do list trains our brains to be more productive and motivated – you gotta love those dopamine hits!
Do you use a to-do list when you do your spring cleaning and do you find it helpful? Let me know in the comments below!
Here's to a fresh start and a sparkling clean home!