Do you love giving handmade Christmas gifts to friends and family? Maybe you want to save some money on gift tags and are looking for a frugal solution (I am right there with you!), or maybe you just want to add a nice homemade touch to a Christmas gift. Either way, you'll love these adorable FREE printable Christmas gift tags for chicken lovers!
Whether you yourself love chickens or you know someone that is, your gift recipients are sure to get a kick out of these cute DIY Christmas gift tags for chicken lovers.
You are more than welcome to download and print as many of these as you'd like to add that extra special touch to your Christmas gifts, especially if you know someone who loves chickens!
Save the Christmas Eve stress and have these tags saved and ready to go!
Printable Gift Tags for Chicken Lovers
These free, printable gift tags come as a PDF with 6 tags on a page. They can be printed right from your home computer and attached to your gifts with a nice piece of twine or curled ribbon.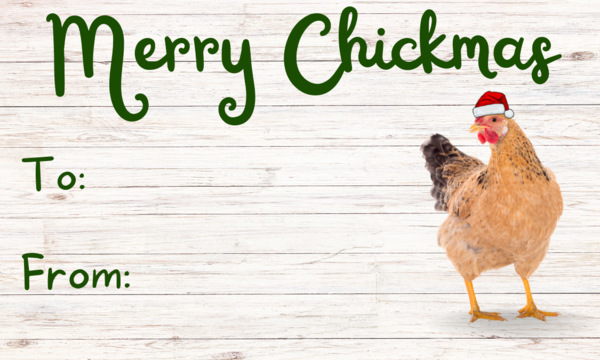 I'd recommend using cardstock to print your gift tags. Using a heavier paper will make the tags look nicer and hold their shape without any ripping or bending.
If you're looking to really save money and make your own tags from printer paper, no worries! You can print these tags using regular printer paper and glue it to some recycled this cardboard from a Kleenex box, shoe box, or anything else that might be in your blue bin. I go over the instructions on how to do this later on.
I still personally prefer to go with cardstock as my number one choice,  but there are always ways around it if you prefer!
Related: FREE Farmhouse Christmas Printable Wall Art – 8 Beautiful Variations!
If you don't have a printer, you can copy the PDF to a USB stick and take it to a nearby Walmart, CVS, Staples, etc. and have them print it for you on your choice of paper.
If you don't have colored ink, you can print these in black and white and they still look totally cute!
Finally, laser printers are best for printing these gift tags and the colors won't bleed, but an inkjet printer will do just fine as an alternative.
How to Print Your Gift Tags
1. Add cardstock to your printer's paper tray.
2. Download the PDF using the link above or click here to download.
3. Click the print icon in the upper right corner.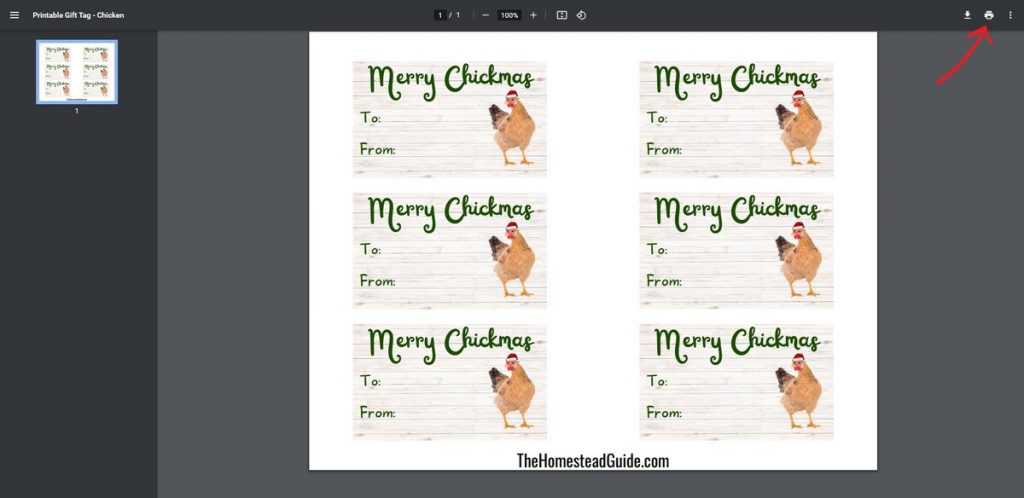 4. Make sure all the settings are correct: print destination, color, paper size, number of copies, etc. Make sure the tags fit on the page and none are cut off in the print preview.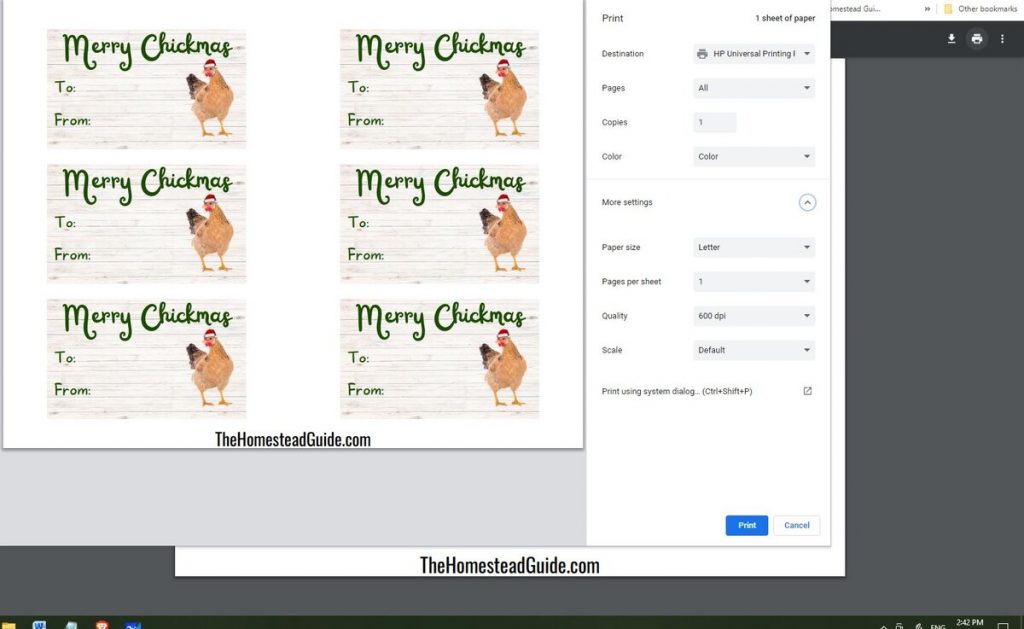 5. Click print.
How to Make a Gift Tag Using Printer Paper
No time to buy cardstock? No worries! You can still make your own gift tags using regular printer paper, a glue stick, and some clean, recycled cardboard such as a Kleenex box, frozen pizza box or anything similar that might be in your blue box.
Here's how:
Print the sheet of gift tags using the instructions above or directly from your file manager on your computer.
Cut out the gift tags you will be using.
Cut out a flat piece of thin cardboard that you can work with and glue the gift tag to the cardboard with the plain side of the cardboard facing the outside.
Cut out the gift tag and there you go!
You can use a hole punch to punch a hole in the corner and tie it to your gift with some curled ribbon. If you're going for a rustic look, twine or jute looks great!
It's always nice to add a personal touch to your Christmas gifts, whether or not they are handmade. If your gift recipient is an animal lover or chicken lover, they are sure to delight in this cute chicken-themed Christmas gift tag even before they get to enjoy what's inside!
Do you like adding personal touches to your Christmas gifts? Let me know in the comments! And be sure to pin it for later!
Looking for some gift ideas for a special someone? Check out my list of awesome gifts for foragers and mushroom hunters as well as some great practical gifts for homesteaders to get inspired!